Honoured worldwide
In October 2003 The Raja Yoga Institute received the membership of the International Yoga Federation, the European Yoga Alliance and the World Yoga Council for this exceptional Training. The Raja Yoga Institute is also appointed as representative of the International Yoga Federation for Holland.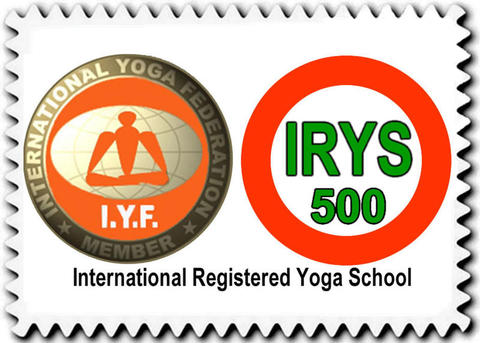 The International Yoga Federation (www.internationalyogafederation.net) provides standards and support for 450 million people practising Yoga and the vast majority of the Yoga schools in the world.
Ajita (Philippe Barbier) has thereby received the noble title of "Sri" or Sir, and the title of "Yogacarya" or Professor in Yoga from the World Wide President of the International Yoga Federation, at that time, Jagat Guru Swami Maitreyananda Sarasvati (Dr Fernando Estevez-Griego).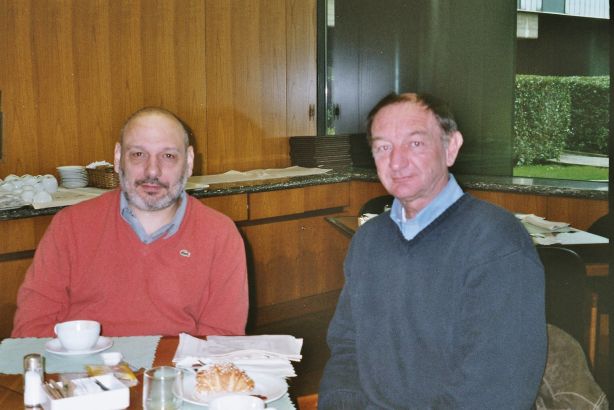 Breakfast in Milano April 11th 2005. Left Dr Fernando Estevez-Griego and right Sri Yogacarya Ajita.
Ajita is also specially recommended by the Vice-President, also President of the Asian Union of Yoga and the Yoga Association of Delhi, Yogasiromani Dr. Gopalji:
We welcome Ajita (Philippe Barbier). He is a gentle, friendly man with great experience. He can help you with a lot of patience and tolerance. Contact him and find out for yourself. His phone is: +31(0)619053876, e-mail: rajayoga@XS4all.nl. He has the Belgian nationality, born in Congo (1947), ex-officer Para-Commando and platoon commander, professional marketing specialist, computer hobbyist, father of 4 children. He is a Yoga practitioner since 1963 and Yoga-teacher since 1979.

K.C. Sharma, IAS, the President of the Yoga Federation of India, has said about Ajita on October 16th 2004 in Madrid:
Since 23 years that I am travelling around the world I have never met such a true Yogi, able to explain so clearly the holy science of Yoga. I wish him the best and offer him as a gift of love the book "Sermon about Yoga" of my Master, Dr Jayant Kumar Bhadury.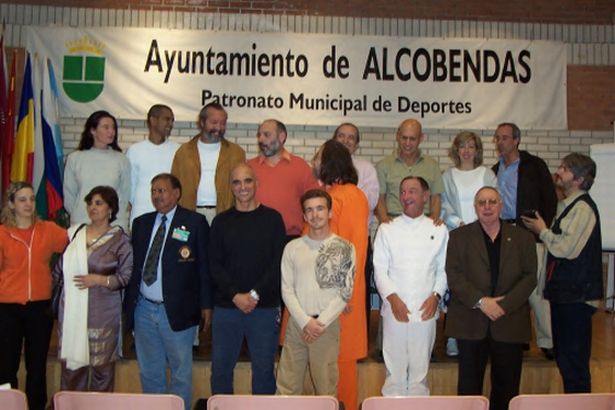 The representatives of different countries at the European Yoga Conference 2004 in Madrid (Alcobendas). On the second row you see the World Wide President of that time, with an orange pullover and a little bit bold head. Ajita is dressed in white on the first row.
In January 2007 Ajita became Life Member of the World Yoga Council "Viswa Yoga Samaj" www.worldyogacouncil.net , the highest organization of the Yoga community in the world.
In December 2007 Ajita has accepted the invitation to be a Member of the new World-wide Yoga Parliament, which is meant to be a forum for all Yoga practitioners.
On November 5th 2008, Swami Maitreyananda has given Ajita the title "Maharaja", which means "Great King".